Featured Item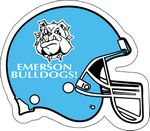 Football Helmet Outdoor Magnet (7"X 6 1/...
These spot color magnets are suitable for indoor or outdoor use and are printed on an approximately .034" thick, weather-resistant material. 7" W x 6 1/8" H x 0.034" Thick
$1.63 - $5.18
Welcome!
Welcome To The Future of Promotional Products!
Gone are the days of searching through catalogs or trying to make sense of complicated product websites.
We do the work for you! We've taken only the very best most current products and placed then in easy-to-use categories designed for your needs. take a look at our selections - quality products at excellent prices.
Enjoy This Amazing New Resource
We know you don't have time to waste, so we've cut to the chase and made it simple! Keep in mind, we have access to over a million products-So if you don't see what you're looking for or have a special theme or request, let us know and we'll find it!